Woods Nordport
A sustainable powerhouse with community at its centre
Location
Copenhagen, Denmark
Acquisition
Winning proposal in private offering in 2019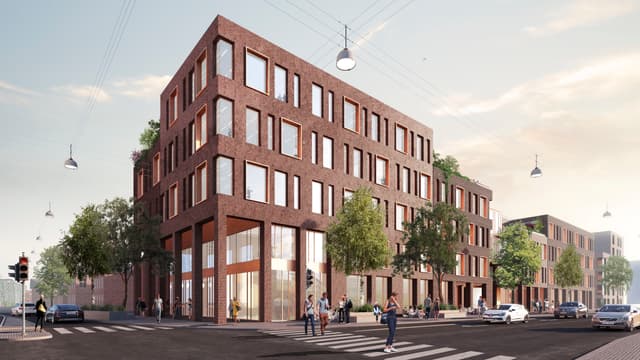 In North Habour in Copenhagen, a multi-user house is growing up with great ambitions for the environment and community - and it is created to play beautifully with the surrounding city.
By & Havn has entered ian agreement with NPRE to buy two of the most visible and attractive business grounds in Woods Nordport in North Harbour. Here, NPRE will erect the new multi-user house together with metro and the rest of the district. The agreement itself is due to a process in which By & Havn has requested potential investors to send their expressions of interest, so that conditional sales agreements could be entered with respective partners that has been estimated to be able to furfil the wishes of the two building grounds.
In the selection of NPRE, By & Havn have especially empasized that the multi-user house needs to have a great level of ambition in regards to sustainability, that is plays into the surroundings, and not at least, it redeems the ambition of creating a multi-user house with both common canteen and a co-working café, so the house will contribute with future communities in and around North Harbour.
The two building grounds in Woods Nordport have been offered together. Together, they withhold 8,000 square meters of floor and is situated towards Kalkbrænderhavnsgade og Streets of Aarhus-street with great visibility from North Harbour Train Station and the upcoming North Harbour Metro Station that will open in the beginning of 2020. Due to its central location, the coming multi-user house will turn into the gate of the lively Streets of Aarhus where there already live around 2,500 people plus 700 people work. The district contains several stores, supermarkets, restaurants, and cafés.
Sustainable certification
The new multi-user house is created to fulfil the demands of DGNB Platin that is the highest sustainble DGNB-certification.