Hoff X
A modern office building built from quality materials
Acquisition
Winning proposal in projetc competition in 2013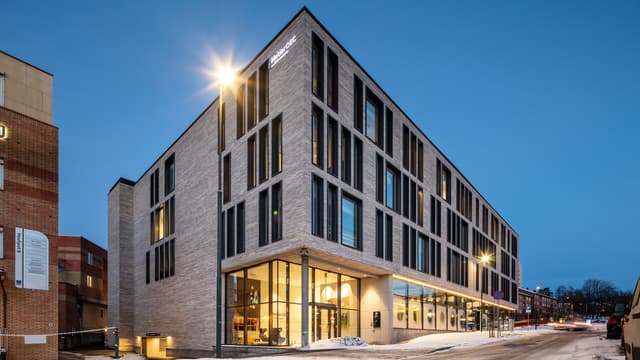 Hoff X is a modern office building located by one of the radial roads leading into the district of Skøyen in Oslo. The building is located a short distance from the district's green areas and traffic junctions and has been mainly built from high-quality wood and brick materials.
Offers a lot of flexibility
The office building is four storeys high and contains 5,500 sqm of flexible office space with shops on the ground floor. The building has also been designed and laid out to make future expansion projects possible with an addition consisting of residences, thereby fulfilling the vision of the Skøyen urban development plan.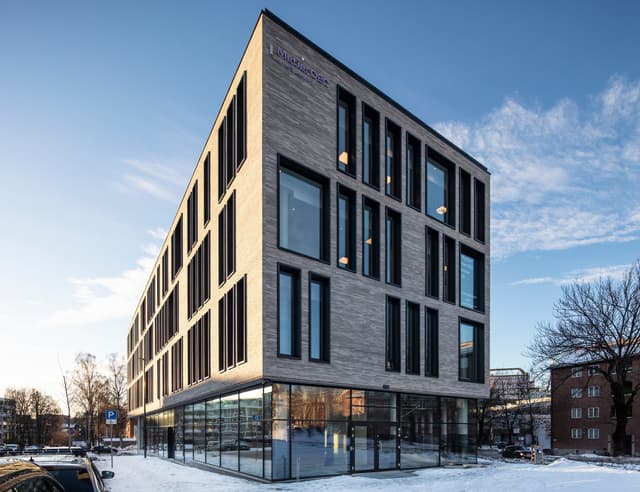 Opens towards the city
The shops on the ground floor face out towards Hovfaret, which has been planned to become the district's future shopping street. Above the shops lie the office facilities, which in contrast to the transparent ground floor are framed by a brick facade with ceiling-height window sections of varying widths that add life and dynamism to the facade.