We consult our clients on how to develop architecture for every segment: residential, commersial, culture, healthcare, and education.
Arcitecture
As a full-service architecture practice, we provide consultation within all branches of architecture. We do so with a holistic perspective where we identify ourselves with the place and take tendensies into accord - always in dialogue with our clients. To us, it is our foremost duty to translate our visions into impactful solutions within residential, commersial, culture, healthcare, and education.
Do you want to know more?
Then please get in contact with our partner and head of business relations Kathrine Hegner Stærmose at khs@aart.dk or +45 41 72 80 87.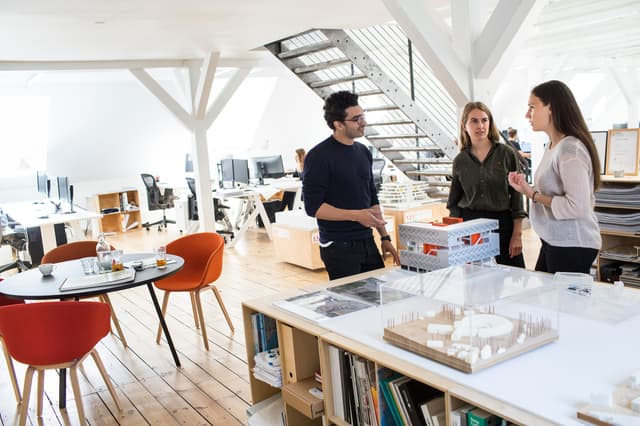 We draw on broad experience
From student dorms to senior housing to apartment complexes and entire residential areas. As one of Scandinavia's leading architecture firms, we have a wealth of experience within residential development to draw on. Throughout the years, we've created homes throughout Scandinavia that transform societal trends into sustainable forms of housing rooted in local architectural customs. Among our projects are the world's first Active House in Lystrup and Europe's biggest wooden development in Stavanger, named the world's best residential development by World Architecture News in 2014.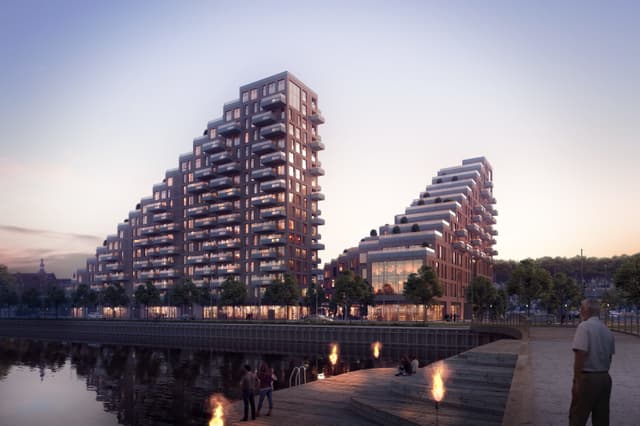 We have extensive experience in creating healthy and socially stimulating buildings, which have been thought through to the smallest detail. Not only in relation to traditional parameters such as indoor climate, daylight conditions and material quality, but also in relation to the experience of community. As part of our AART DNA, we work focused on changing and improving how young people, families and seniors live, so that new encounters arise across generations and social divides.
Each business is its own
When we design and transform commercial spaces, we always start with the DNA of our clients, because each business is its own. It has its own values and workflows, and we view it as our foremost task to create architecture that supports precisely these. We therefore make a point of gaining an in-depth understanding of the company and translating its DNA into a physical framework, enhanced by strategic work with daylight, indoor climate and material quality, and which can easily be adapted to accommodate future changes.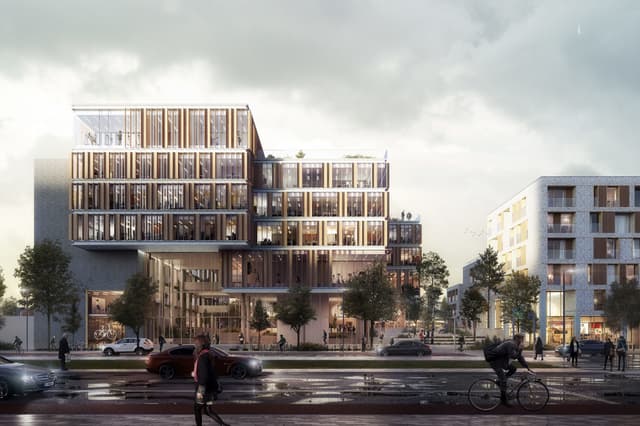 Collaboration is the cornerstone of companies today. That is why we let the flow of knowledge and employees shape our architecture. Before we sit down at the drawing board, we therefore make a virtue of understanding how employees and departments interact. All with the aim of letting the flow of knowledge and employees shape architecture. In this way, we create added value for our customers, not only in relation to architecture as a brand strategic element, but also in relation to strengthening the knowledge sharing and collaboration across the company.
A cultural catalyst for urban development
We consult our clients on how to develop museums, libraries, concert halls, outdoor centres, and sports facilities.
Architecture for culture is part of our AART DNA - from our first winning project back in 2003, Sletten in Ry, which was nominated for the Mies van der Rohe Award, to our most recent cultural flagship, the Viking Age Museum in Oslo. Throughout the years, we have created a wide array of cultural developments across Scandinavia. We have designed and transformed museums, libraries, concert halls, outdoor centres and community centres. Common to all our projects is an in-depth understanding of our clients' visions, allowing us together to employ architecture as a cultural catalyst for developing cities and society.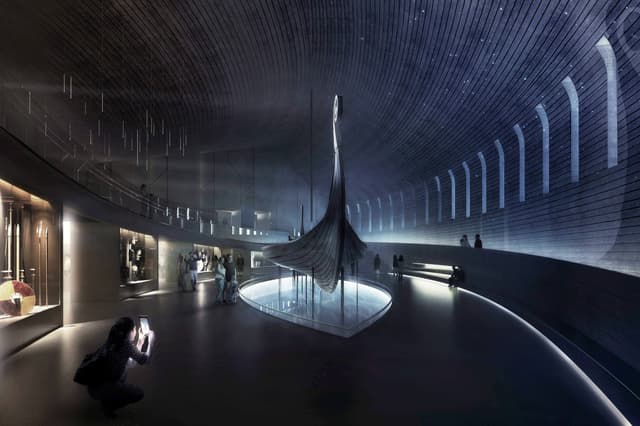 Culture is about connecting people. It's about strengthening social cohesiveness in cities and society, and that's why communities come before all else when we design and transform cultural developments. In our work, we strive to promote a modern and diverse cultural life that brings together not only distinct functions but also people across age and social divides. We do so with an in-depth understanding of the history and potential of a place, so that the architecture harmonically inscribes itself in its surroundings while simultaneously providing contrast and character.
Leaders in the field
With more than 800,000 healing square metres in our back catalogue, we are one of Scandinavia's most experienced consultancies when it comes to designing hospitals and healthcare centres. Our experience spans somatics and psychiatry to highly specialised clinical functions such as proton therapy and neurorehabilitation. Thanks to the depth and scope of our expertise, we can guarantee effective and empathetic frameworks for a healthcare sector in constant flux, where new demands, technologies and demographic projections must be thought into the architecture.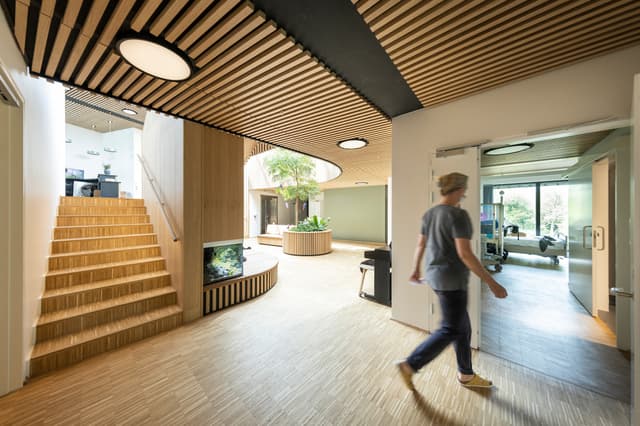 We take a holistic approach to healthcare architecture. For every healthcare project, it is a matter of combining optimal functionality with human connection such that the two mutually reinforce each other. We therefore work strategically to design and organise healthcare projects such that the architecture contributes to creating a cohesive patient journey and efficient workflows for personnel. Among other things, we focus on connecting departments and medical specialties such that logistics are consolidated and the patient's need for a swift and accurate diagnosis is brought to the fore.
Healthy and stimulating learning conditions
We have a wealth of experience in creating healthy and stimulating frameworks for the education of children, young people and adults alike, spanning the design of primary and secondary schools to vocational schools and adult education centres all across Scandinavia. The breadth and depth of our technical expertise enables to bring buildings and rooms into play to support pedagogical principles and stimulate playing and learning. Among other things, we do this by actively working with acoustics, daylight and materials, because a healthy indoor environment is an essential condition for learning.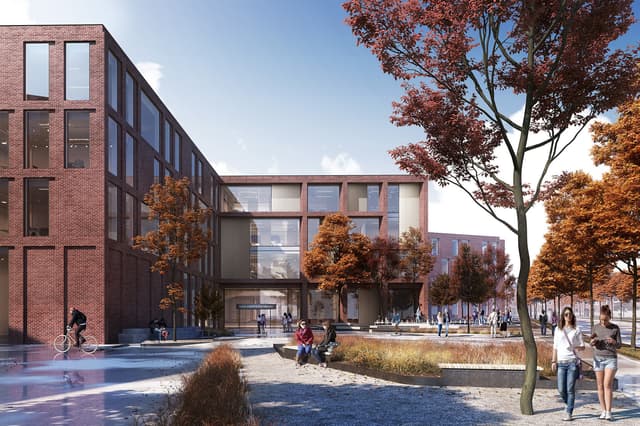 We have extensive experience in combining learning and landscape, just as we integrate climate roofs as an active part of learning environments - indoors and outdoors. It allows us to create sustainable environments for learning that change as the seasons change. Sustainability is also about being able to adapt to changes in the long term - for example in demographics and pedagogical principles. That is why we work strategically to create long-term sustainable architecture that can be transformed over time - without straining either the individual institution's finances or the environment in a broader perspective.