Frogner Townhouse / Drammensveien
New life for a distinctively modernist building
Developer
Norwegian Property ASA (NPRO)
Architect
AART architects
Engineering architect
IARK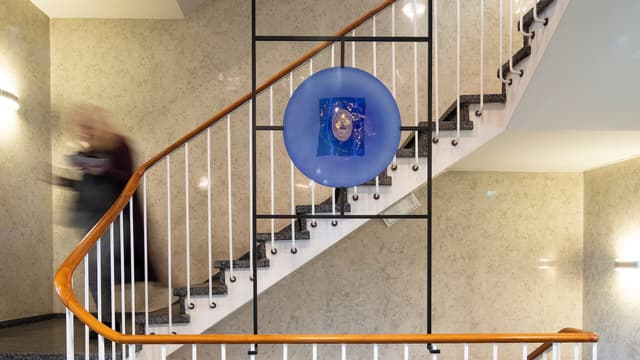 Drammensveien 60 is an iconic high-rise building at Skillebekk in central Oslo, built for the National Insurance Administration in 1960, and listed in 2004. After an extensive upgrade and conversion, the building has re-emerged as a significant public building - Frogner Townhouse. The focus has been to take care of and refine the beautiful building, and at the same time incoporate good modern solutions for the public as well as employees.

Et ten-storey townhouse is linked by a narrow, three-storey curved low-rise block, inspired by the 1952 UN Headquaters in New York by Niemeier / le Corbusier. The building is built in concrete, with concrete ribs and slaps with exposed shingle and aluminum in the facades. The low-rise glass facade facing the street is covered by a lattice decoration by Arne E. Holm. In the interiors, durable materials such as marble, stucco lustro, oak, teak, steel and brass were used. Several larger integrated works of art are preserved in the common areas.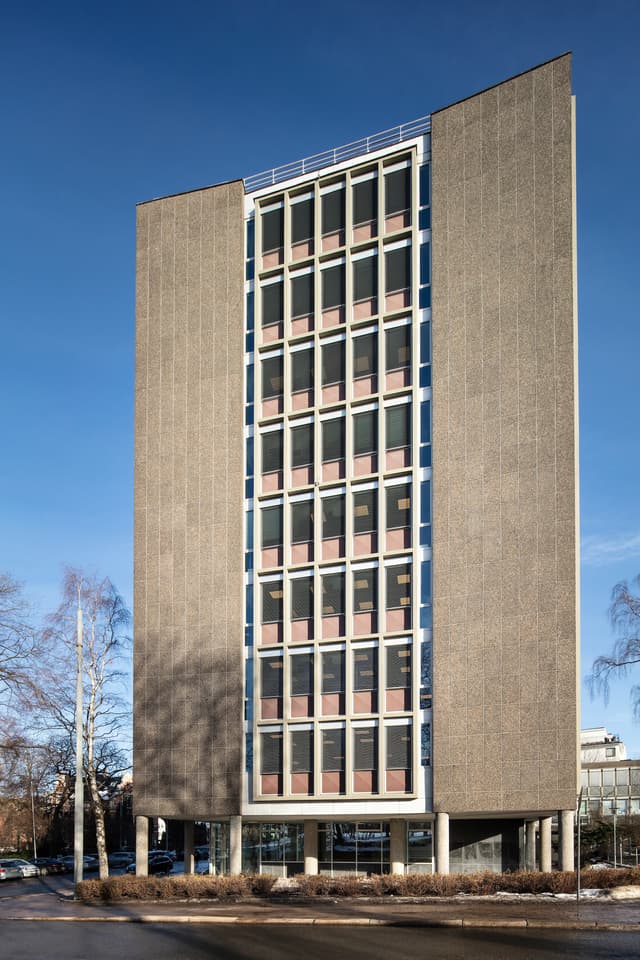 The facility is an example of a monumental public building that tells an important story about the development of the welfare state, and is one of Oslo's few intact modernist high-rises from the period.
Nico Sellevold / Architect MNAL
The high-rise block originally contained a reception and pharmacy on the ground floor and offices for the National Insurance Administration on the other floors. With a narrow and efficient floor plan, all workplaces have good access to daylight. On the top floor there is a canteen with great views and a roof top terrace. The low-rise block contained offices for the Norwegian Directorate of Health, in addition to laboratories, a doctor's office, a post office, a garage, service flats, and a kindergarden for children of the (female) employees.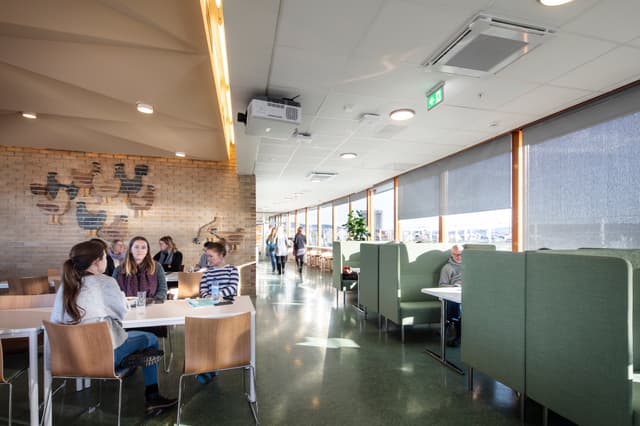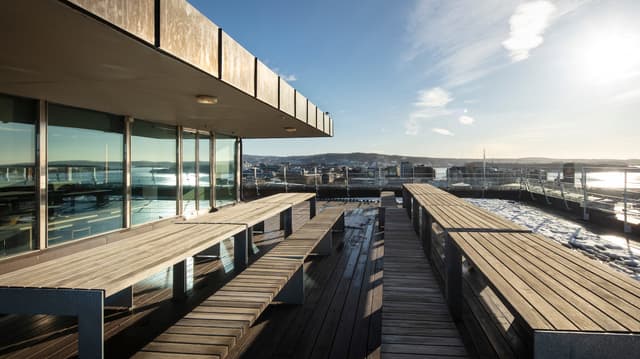 Today's Frogner Townhouse includes the high-rise block and the front part of the low-rise block. Here, the district administration's various departments are gathered together with e.g. the health center and a Norwegian Labour and Welfare Administration. The ground floor is open and outward-facing in line with the orignal features. All areas and technical facilities have been renovated and upgraded to a greater or lesser degree. The office areas are adapted for full flexibility with cell offices or office landscapes. Of the facade changes, an entrance to the low-rise block has been established in collaboration with Byantikvaren, adapted t external blinds, and a waste room has been built in the backyard. New features such as access locks and lifting tables are integrated in the interior. The project has preserved both the qualities and ressources of the historically imporant building and added the necessary functions in line with current work environment regulations, safety, technology and flexibility.