Ski
A nerve centre of life and public transport
Developer
Bane NOR Eiendom
Competition
Winning proposal in competition in 2020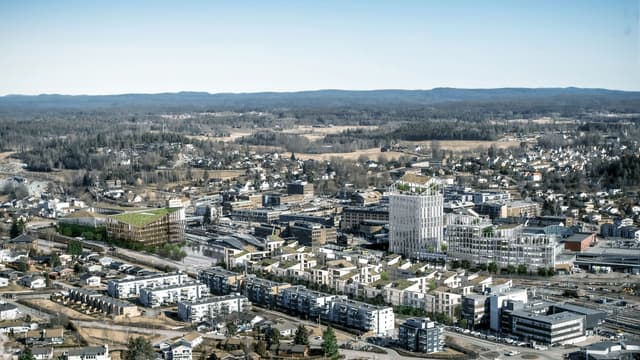 The vision behind Ski Station is to develop a mixed district with homes, offices, and a conference hotel in close contact with the public transport network – including the new Follobanen with a high-speed train between Ski and Oslo. We are developing the eastern part of the district with offices and a 13-storey conference hotel as the city's new landmark.
Becomes an evident alternative to Oslo
An urban development of Ski – and similar cities near Oslo – are an important part of relieving the urbanisation of the Norwegian capital. As Follobanen is initiated in 2022, and travel time to Oslo is cut to only 11 minutes, Ski becomes an evident alternative for the many new arrivals. This demands an efficient utilisation and urban development of the area around Ski Station – and with pedestrians, cyclists, and commuters in mind, each with their own special requirements and opinions on what creates an attractive district.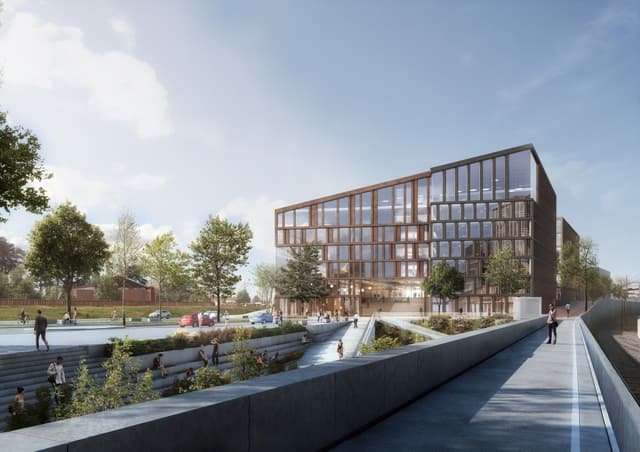 We are developing the eastern part of the district which includes offices and a 13-storey conference hotel.
Becomes a landmark for Ski
As a slim, cohesive, and tightly composed building structure, the new building will rise on the eastern side of the railway between Ski Station and Ski Mall. With its 13 storeys, complete with offices, conference facilities, and a hotel, the building stands as the city's tallest point and new landmark. Architecturally, the building is attuned to the site with refences to the existing urban structure around the railway, and with its varying building heights and rhythmic composition of large windows, the architecture adds life and dynamic to the area. An architectural quality that is expressed through the green rooftop terraces with a view of all corners of the world.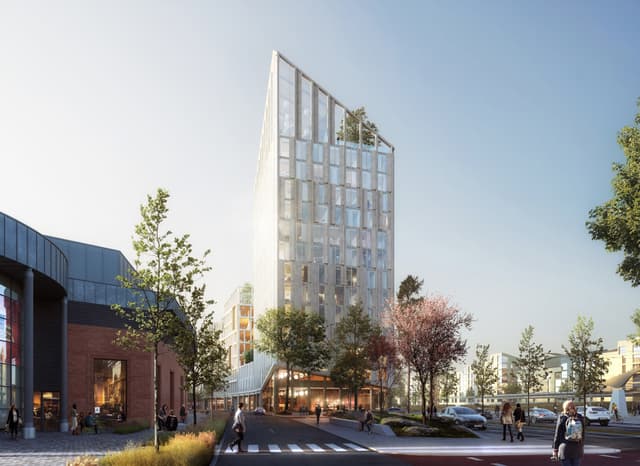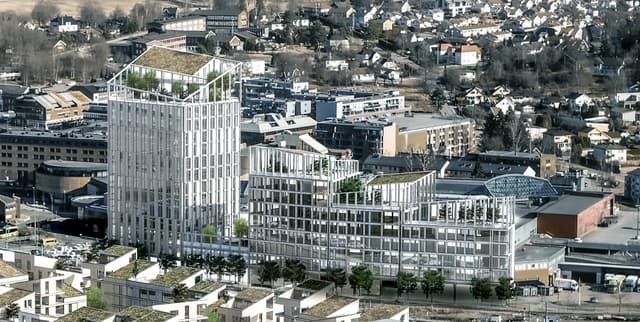 Part of a greater development
The development of the eastern side of the station with offices and a conference hotel is a part of the development of the 120,000 square meter station district. The aim is to knit the city closer together with great urban spaces and mixed building typologies, resulting in a safer and more accessible city centre. A station area that is attractive for both travellers, commuters, and citizens, thus, lifting the local business community. Ski Station is thus created as not only a traffic hub, but as a nerve centre for life and trade in close connection with the surrounding city.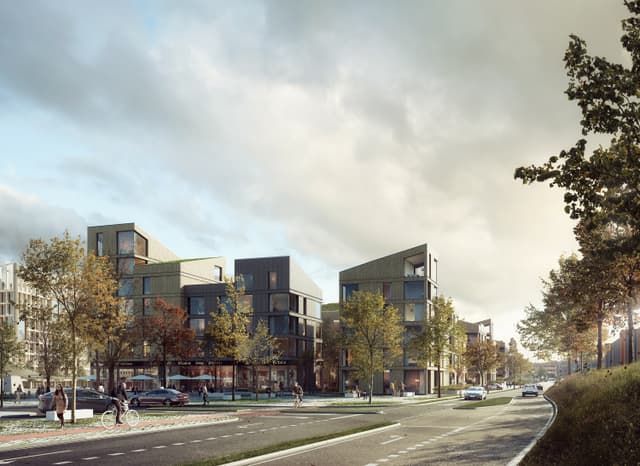 Sustainability
The offices and conference hotel is designed to meet the Norwegian building standard BREEAM Excellent.