Katrinebjerg Campus
From a business area to a university campus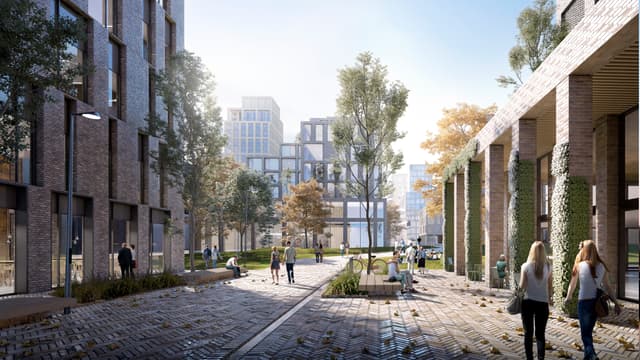 The masterplan describes the combined vision behind Katrinebjerg's future development with principles and guidelines for a connected city campus.
The former business area at Katrinebjerg has since the 50's developted and adapted to the companies' pragmatic needs over time and related to the overall structure of streets and squares. The purpose of the new masterplan is to transform the area and bring it into play as one of Aarhus University's three future campus areas - Aarhus' University Park, the University City, and Katrinebjerg Campus. This is achieved by creating a new urban structure with recreational outdoor spaces, a diversity of functions and better conditions for soft road users.
The campus street will be the unifying element in the new urban structure with the aim of creating a connection between the recreational outdoor spaces and many functions in the area. At the same time, the street will create a close interaction with the existing part of Aarhus University in the form of the University Park. In addition to the direct connections, this will be done by adding the new campus area its own architectural identity as a contrast to the yellow University Park and the upcoming red University City - and together the three campuses will embrace the future of Aarhus University.