Aggerudsvikarna
Unique wooden houses by the water and the city
Location
Karlskoga, Sweden
Landscapes architect
Kungsladan Landskapsarkitetur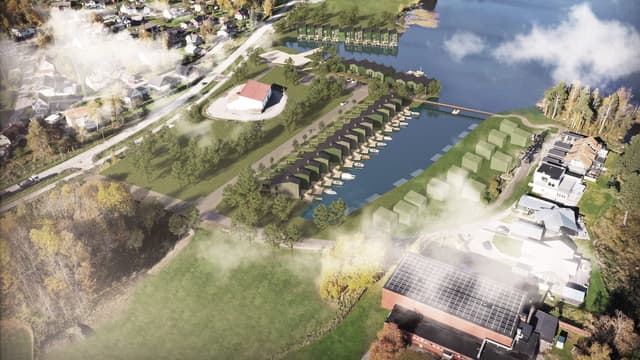 Inspired by the traditional Swedish villas, we have designed 33 modern wooden terraced houses in the center of Karlskoga. With the idyllic Möckeln Lake in the front garden and the city in the backyard, Aggerudvikarna will form an optimal and unique setting for an eventful everyday life filled with light, air, and life.
Reinterprets the traditional villa
With Aggerudvirkarna, we are developing 33 terraced houses in varying scales and shapes. With its green wood panels and sloping metal roofs, Aggerudvikarna reinterprets the city's traditional residential areas in a new and modern silhouette. Deliberate displacements and indented terraces give the terraced houses a dynamic structure that at the same time creates niches where the residents can enjoy the optimal light and view conditions from all the homes undisturbed.

Located by the idyllic Möckeln lake with its own bathing jetties in the center of Karlskoga, the homes provide plenty of space for an active and recreational everyday life, where residents can use the lake's many opportunities - swimming, sailing, standing on a stand-up paddle board or just relaxing at the water's edge. At the same time, the homes adapt to the place and add new qualities - not least in a sustainable perspective, as they are built in wood and with many practical design solutions will inspire sustainability.