Kløverskolen
Where learning and community grow
Location
Gellerup, Denmark
Developer
Aarhus Municipality
The vision behind Kløverskolen is to create a school and leisure centre that at once inspires and cultivates play and learning through project-based teaching, provides safety, and contributes to the community. Centrally located in Gellerup's green city park, the school will form a breeding ground for a budding city life in close interaction with students, teachers, and citizens.
Catalyst for community
Kløverskolen plays a central part in Aarhus Municipality's ambition to revitalise Gellerup to an inviting and attractive district with community and diversity as its focus. With its unique location in the green city park in the heart of Gellerup, the open ground floor, and the broad range of offers, Kløverskolen will turn into much more than a school and leisure centre. It will become a magnet that attracts life, play, and learning - also long after the bell has been ringing.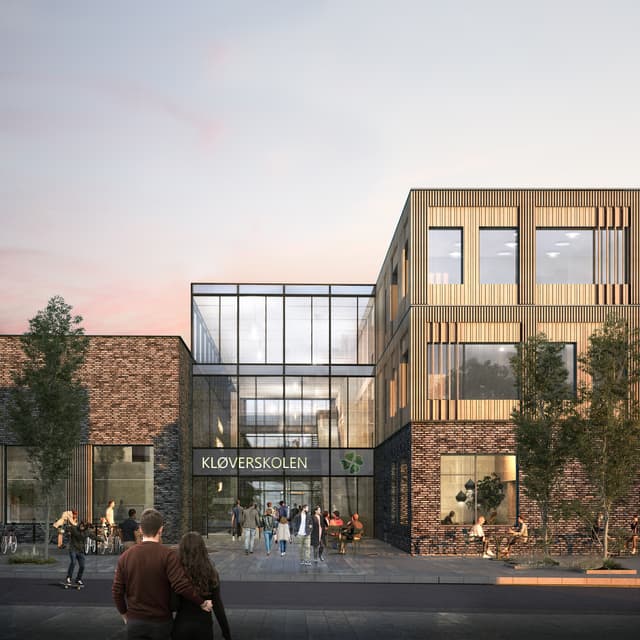 Well-being and safety
Well-being and safety are key words in the development of Kløverskolen. Therefore, everything from the choice of natural materials and the visual contact between staff and students, to the separation of traffic and peaceful pedestrian zones help to make Kløverskolen a nice and safe place to be. At the same time, research shows that the well-being of the staff is an important prerequisite for the students' ability to learn, and space has thus been created where the staff has the opportunity to withdraw, immerse themselves and get ready for a new lesson.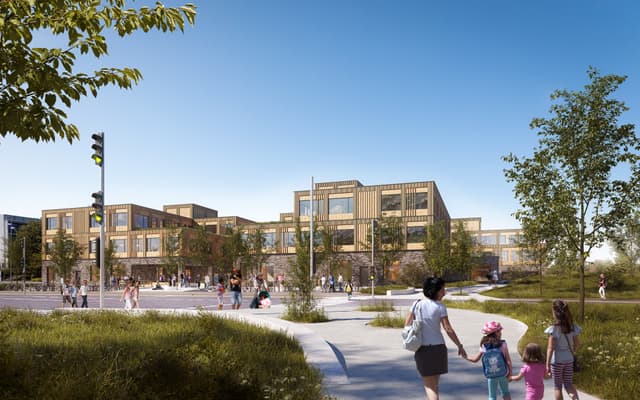 Space for new forms of learning
Unique to the project is the school's focus on project-oriented teaching. It is based on the ambition to motivate students to learn and act independently and innovatively so that they can become active citizens in society. The goal of the architecture is thus to create dynamic spaces and zones, which give students the opportunity to choose and create the environment that suits their project - both in school and in their spare time for the benefit of their own learning and the community.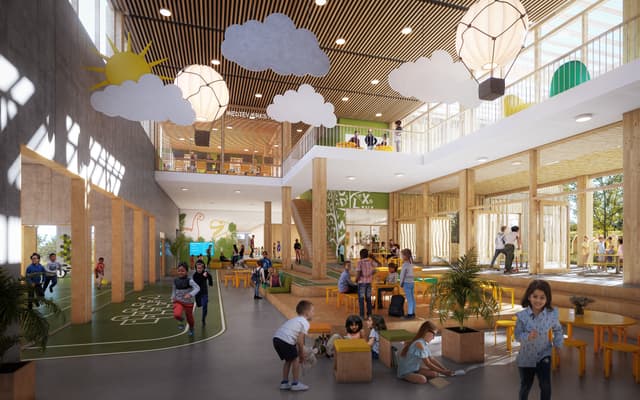 Inspires and invites sustainability
Last but not least, the ambition is for architecture to inspire and invite to be more sustainable by making it easy and obvious to make green choices in everyday life. At the same time, the building itself must set a good example for the sustainable solutions of the future by using materials such as brick, wood and concrete. The construction is planned to obtain the DGNB Gold certification.