Tvetenveien 8
An office building that interacts with the city
Acquisition
Private assignment in 2016
Landscape architect
Studio Oslo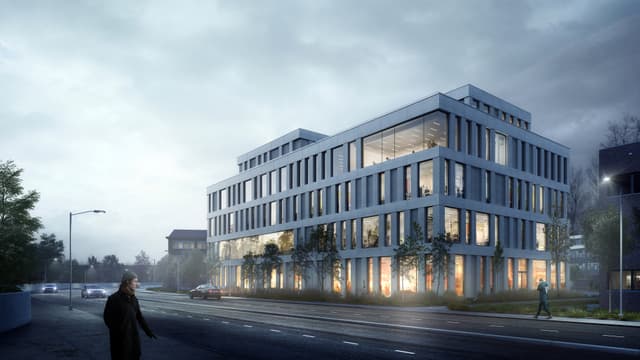 An outward-facing building with a wide variety of functions on the inside: That is the essence of the new office building, which is being built together with an existing building to create a unifying office space of 19,000 sqm in the central part of the residential and commercial district of Bryn in Oslo.
The office building is being constructed on the property developer IK Gruppen's undeveloped land in Bryn. The building will have 12,500 sqm of office space spread across five storeys, and together with the property developer Argentum's existing building on the adjacent side it will offer 19,000 sqm of modern offices, common functions, a showroom and warehouse space - and notably, in a location close to the district's centre and perhaps the most accessible for cars and public transportation.
On the inside, an atrium opens the building and ties its many functions together, while on the outside it commands a robust and dynamic presence in the urban landscape, not least thanks to a facade clad in natural stone and its composition of room-height window sections. This makes it a build that is designed not only to benefit the companies but also give something back to the city.
The interaction with the city also takes place in relation to the arrival square at the main entrance with its trees, plants and socialising areas, adding new qualities to the immediate surroundings which are currently characterised by asphalt and parking spaces. The overarching aim is to create an inclusive and welcoming urban space, which is why the parking area will be relocated from the street level to a parking garage under the building.