Verket
From industry to a mixed district
Developer
Moss Municipality
Size
16,000 sqm
- 14,400 sqm housing
- 1,600 sqm urban space
Acquisition
One of three winning proposals for a parallel assignment in 2019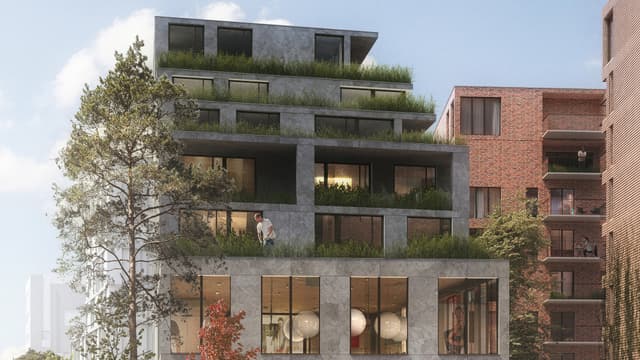 Verket in Moss transforms an earlier industrial area into a mixed district where housing, business and culture meets, thus, arrises new opportunities across typologies. Three architect practices are behind each of its own part of the district. As one of the three, we are behind developing the south western part that includes housing and urban space.
The housing is a combination of three buildings with terraces turning towards the water, and rests on a base of stores and cafés. The three buildings are processed so that their inviting location and terrace-structure is utilising the view and the daylight in the best possible way. Additionally, each building is translucent.
Besides the view and daylight conditions, the architecture is related to the area's industrial history, especially, with strong references to the historical M:6 building. Therefore, the materials are kept in redish nuances of brick and light concrete - both in terms of the buildings and urban space where the city floor is devided into a zone of water, a zone of play and a flexible zone for common activities across ages.

Optimale udsigts- og lysforhold
Boligerne består af tre bygninger, der terrasserer ned mod vandet og hviler på en base af butikker og caféer. De tre bygninger er bearbejdet, så de med deres indbyrdes placering og terrasserende struktur udnytter udsigten og dagslyset bedst muligt. Læg dertil, at alle boliger er gennemlyste.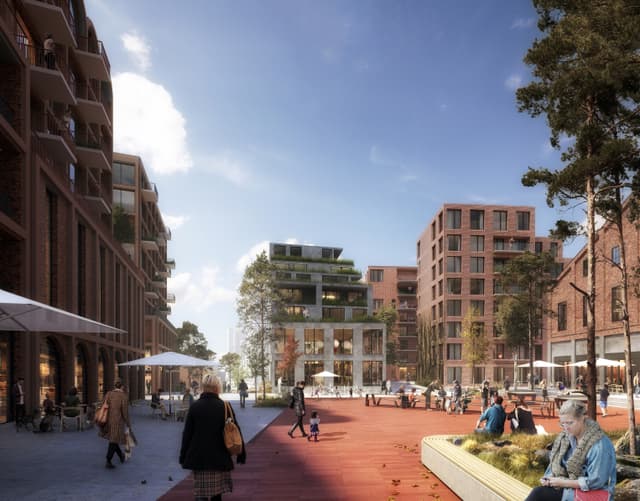 Stærke historiske referencer
Ud over at optimere udsigts- og dagslysforholdene er arkitekturen bearbejdet, så den forholder sig til områdets industrielle historie med stærke referencer til særligt den historiske M:6 bygning. Materialerne er derfor holdt i rødlige nuancer af tegl og lys beton – både hvad angår bygningerne og byrummet, hvor bygulvet er inddelt i en zone for vand, en zone for leg og en fleksibel zone for fælles arrangementer på tværs af alder.