Tordenskiold Brygge
Framework for a recreational urban life
Location
Fredrikstad, Norway
Assignment
Private assignment in 2015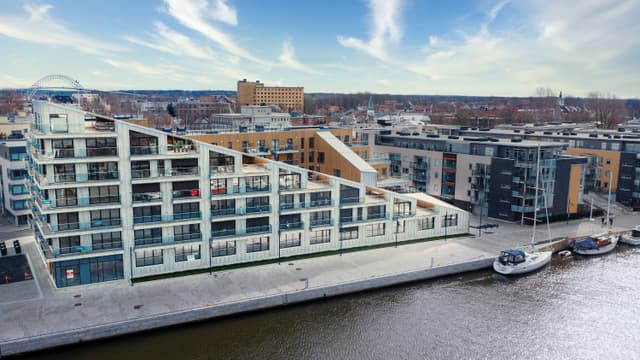 Tordenskiold Brygge creates a framework for a recreational urban life in the center of Frederikstad. Designed as a hybrid between the classic square and the terraced landscape, the residential building enhances the view along the river and adds new layers to the experience of the city.
This is done by reinterpreting the classic square structure and letting the building rise from one floor towards the river to then escalate in a seven storey urban gesture towards Kråkerøybrua - one of the city's traffic hubs. The compact gesture towards Kråkerøybrua minimises traffic noice from the bridge, while the roof top gardens and terraces towards the river scale down the house and bring it to eye level with life along the promenade.

A grip of character with vibrant urban environment
In continuation of this, the sloping building strcture enters into a dialogue with the surroundings by exposing the courtyard and the roof top gardens towards the promenade, while maximising the number of flats overlooking the river. With its wealth of outdoor spaces, Tordenskiold Brygge stands out as an oasis in the heart of the city. An oasis where the roof top gardens wind their way up the building and tie it together in one grip of character.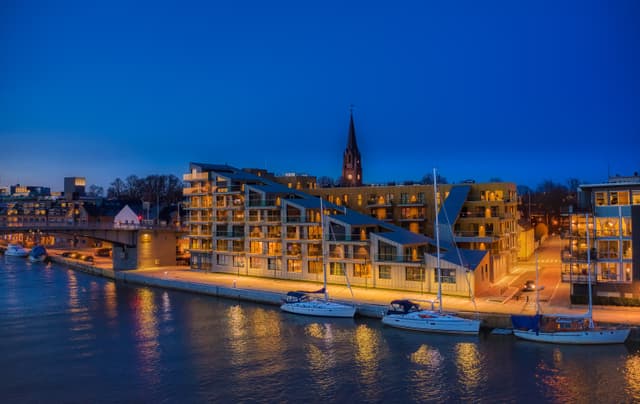 Unique views of the city
To create the best possible flexibility, the flats are arranged as modules that can be folded together as needed - horizontally and vertically. The upper flats along the river are also designed as exclusive penthouse flats, where the sloping roof surface creates varying spaces with high ceilings and unique views of the city. To promote a vibrant urban environment with cafes and stores, the flats are located on a base of commercial leases that open up the ground floor towards the city.