Fagerli School
A diverse learning environment – inside and outside
Developer
Larvik Municipality
Acquisition
Winning proposal in prequalified project competition in 2014
Landscape architect
Bjørbekk & Lindheim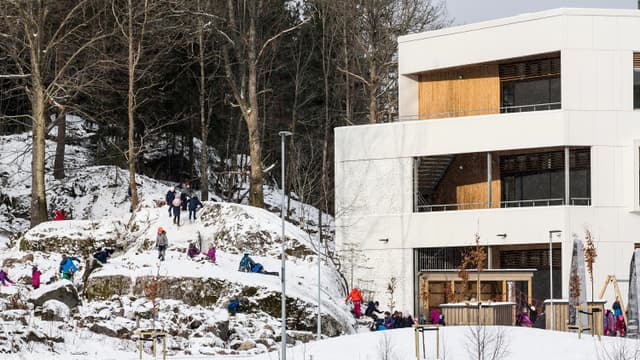 By dividing the school's classes and bringing the entire school together around a common 'heart' space, the architecture creates an environment that ensures a smooth and comfortable school experience for all the students. At the same time, it creates an abundance of room and opportunities for activities - both inside and outside - where the students can play together and replenish their energy for more learning over the course of the day.
One of Norway's biggest public schools
Fagerli School is situated amidst scenic surroundings at the foot of the mountains in Larvik. With its 12,500 sqm, it is one of Norway's biggest public schools with four education tracks from 1st to 7th grade. The grade levels are distributed into a composition of quadratic buildings, which beam outwards at an landscape ripe for activities from an inner common square. In addition to the facilities for schoolchildren attending grades 1-7, the school also houses a family centre and multi-purpose hall, making it appear as a diverse learning environment with lots of learning and activities going on - both inside and outside.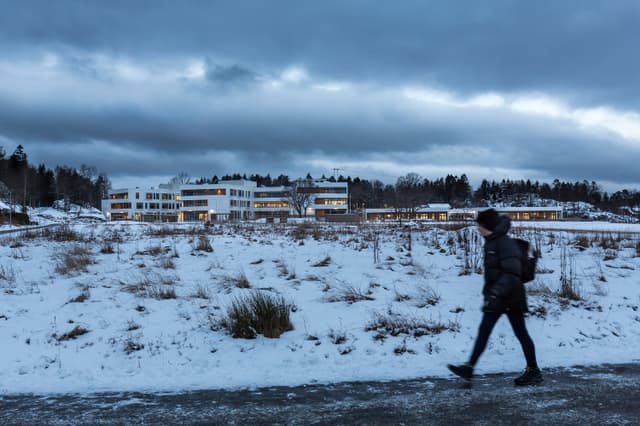 The heart of the school
The common square is located at the heart of the school and functions as an informal space that encourages social activities, immersion and cultural experiences. As the focal point of the school, the space creates visual contact across floors and grade levels, thereby bringing the school together as a single social unit. At the same time, the space functions as a multifunctional platform with a wealth of niches and plateaus designed to stimulate the students' desire to hang out together.