Buddinge City Gate
An asset for the entire city
Location
Gladsaxe, Denmark
Developer
Gladsaxe Municipality
Acquisition
Winning proposal for competition 2019
Landscape architect
Møller & Grønborg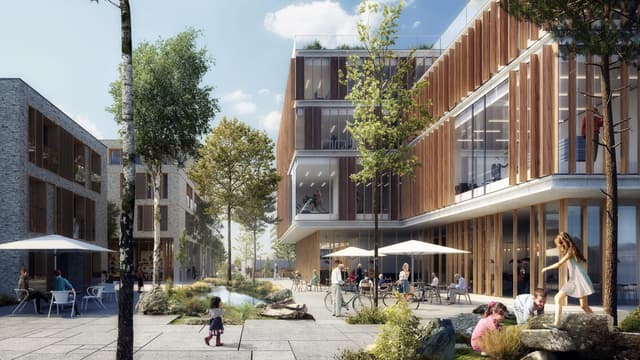 The winning proposal for Buddinge City Gate shows how the area around the former police station in Gladsaxe Municipality can be transformed so that it enters into character as an asset for the whole city with, among other things, a new health center, a new employment house, and a variety of houses and urban spaces.
The proposal revolves around the Gladsaxe strategy's goal of health and well-being throughtout life and a green and vibrant city with a focus on sustainability. The ambitions with Buddinge City Gate is therefore to give the citizens easy access to health and employment. The new city gate will thus consist of a health center and a café, just as it will have space for an employment house, a variety of service businesses on the ground floor and flats on the upper floors.
In this way, Buddinge City Gate will create new opportunities for citizens and private actors. All with the aim of bringing the city gate and its many offers into play as a catalyst for the municipality's development. A development that sets the sustainable bar high, which is why, among other things, it is a priority to preserve and transform as much of the existing buildings as possible, so that a sustainable starting point is ensured for developing the municipality.
Until the end of 2019, the winning proposal will be further processed in collaboration with the municipality. Here, Gladsaxe enters into a dialogue with architects and consultants about the details of the proposal and looks at whether there are any places where the proposal can be optimized. During this period, neighbours, stakeholders, and interested citizens will be invited to participate in the process. Based on this process, the city council will, at the end of 2019, make the final decision on the design of the future city gate.