09.01.2020
Winning proposal for Denmark's new Cold War museum
Together with SLA, Niras and Thøgersen & Stouby as sub-advisors, we have won the competition to design the visitor centre for the new Danish Cold War museum (in Danish, REGAN Vest – Danskernes Koldkrigsmuseum) in Rold Skov in Northern Jutland.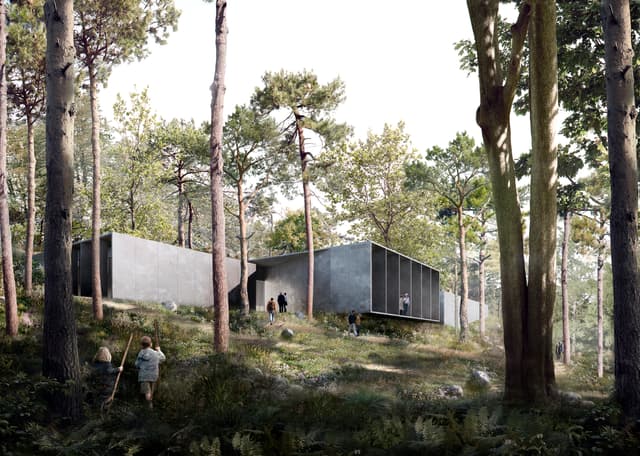 REGAN Vest is a nuclear-resistant bunker that was secretly built in the 1960s during the Cold War to house the monarch and government in case of a nuclear war. The 5,500-sqm bunker was listed worth preserving in 2014 and today it stands with all original interiors intact. When it opens to the public in 2021, access will only be available through guided tours, which is why a visitor centre with modern audience facilities, exhibitions and a teaching centre will be built next to the bunker. At a press conference on January 9, it was made official that we will head the team behind the design and construction of this project.
"It is a unanimous jury that selected o the team, which, with its proposal, has created a solution in which the existing bunker and the associated engineering master's residence together with the unique natural area and the new visitor centre appear as a natural whole. The new visitor centre will be built as four partially buried boxes, which are hidden deep in the woods, gradually appearing for the visitors when they arrive. The flow between the four boxes, and between all parts of the new Cold War museum, has been resolved both logically and simply, and it will give visitors an exciting total experience," said the Chairman of the Regan Vest Real Estate Fund, Claus Holm, at the press conference.