Danmark / 24.04.2020
Vejle City Council approves resilient development plan
A decisive step towards the realisation of Ny Rosborg was taken on Wednesday, April 22, when Vejle City Council approved the development plan for the 80-hectare new district. Up to 2,500 homes will be built on polluted land that will be decontaminated.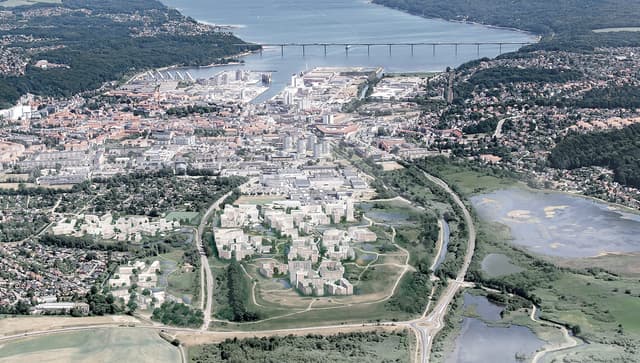 The development plan has been designed by a team with Møller & Grønborg at the forefront and AART and Niras as sub-advisors. As a team, we have extensive experience in resilient urban development, but the plan for Ny Rosborg is particularly challenging, as large parts of the district will be built on Vejle's former landfill site. The development plan has, therefore, been designed to deal with a wide range of challenges compared to a greenfield site.
To deal with the environmental challenges, the site has been divided into six islets, each of which will be a separate construction stage. The two eastern islets will be erected first and will include, among other things, a community centre with facilities especially for children. In addition to the environmental aspects, building a cohesive community is one focus of the development plan – and here the step-by-step division into islets is an advantage. With the islets, future residents will not only have close contact with the surrounding landscape, but the district on their islet will be fully completed before they move in. Thus, they will not have to live within a building site for many years to come. The expectation is, therefore, that it will be relatively quick to create an attractive district, which will be reinforced by the intervening landscapes and the aquatic environment.