23.04.2019
Transforming harbour front south of Oslo
Together with Asplan Viak, we have been selected to transform Holmestrand harbour front into a vibrant new part of town, Backe-kvartalet, with cafes, restaurants, shops and up to 120 apartments. Behind the project is Norwegian property development company Tress Asset Management.
"We have submitted a regulation proposal for Backe-kvartalet in the centre of Holmestrand. The area is a fantastic midway between the waterfront and the new Holmestrand train station. The area thus offers exciting opportunities for the development of approximately 12,000 square metres of housing and business. We plan to have between 100 and 120 new housing units in the project," says Jarle Villumstad, head of Tress Asset Management.
The plan behind Backe-kvartalet is to transform six plots with existing buildings at the harbour front in the centre of Holmestrand. Parts of the existing buildings will be demolished to make space for new and more modern buildings, fulfilling today's livable and sustainable standards. However, a building of historic significance for the city will be preserved – namely 'Kullboden', which is a brick building built in 1910.
We want to transform ​

'

Kullboden', so – as one of Holmestrand's most iconic buildings – it will add a special kind of authenticity to the new waterfront experience.
Anders Strange / Partner and general manager of AART's office in Oslo.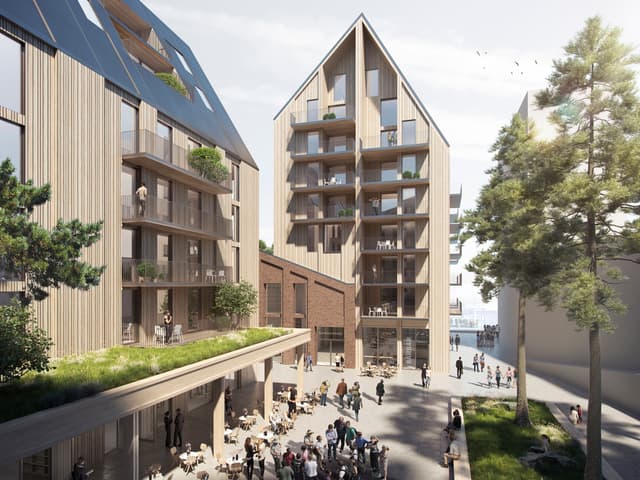 In addition to the revitalisation of 'Kullboden', the new harbour district will offer five so-called 'Sea Houses' with shops, cafes and restaurants at street level and apartments with sea views on the upper floors. The heart of the harbour district will be Backe Gabrielsens Plass, which will become a livable square that will be sheltered from the wind thanks to the new 'Sea Houses'.
It is expected that Holmestrand Municipality will process the proposed regulation during 2019.